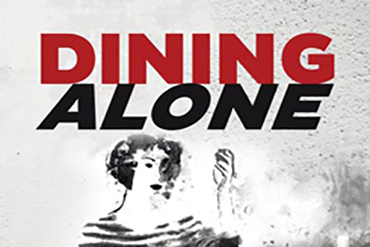 Stories from the Table for One
Dining alone with Madam Tattinger explores the power of reflection and imagination that can be found in the solitude of dining at a table for one. An empty heart from years of a loveless marriage underpins the rituals and illusions that evolve as acceptance and unconditional companionship are sought.
Dining Alone with Madam Tattinger is just one of 38 short stories in Dining Alone- Stories from the Table for One where the" table is a scene of revenge and nostalgic memories, self – realisation and self-indulgence, separations and new beginnings".
Edited by Barbara Santich and published by Wakefield Press, this book will surprise the reader as the twists and turns of each unique story are revealed.
Reviews
'Champagne and truffles might mend a broken heart, but food cannot last. Writing about it does. Dining alone - with only wonderful (perhaps) food for company. And words. What bliss.'- Marion Halligan
'Dining alone is also a wonderful way to catch up on some reading, provided you don't drink too much. And in a case of life imitating art, the solo diner - particularly one interested in food and literature - might find him or herself reading Dining Alone.' - John Lethlean, Australian
'Reading this beguiling anthology is like dipping into a box of hand-crafted chocolates ... unwrap one delicious morsel and it's hard to resist helping yourself to another.' - Janet Boileau, publisher, Taste & Travel Magazine